How it Started
It all started in January of 2017…some of our friends planned a beach trip that I was unable to go to because I had prior plans to go to Washington, DC for my birthday weekend with a few girlfriends. When I got back into town my friend, Gabby Pinto, told me that at this beach trip she had found the perfect guy for me, Taylor Oldham. I laughed and said look at the names, it will never workout. Well I looked him up on Facebook and she was right, he was super attractive! So I set my Bumble dating app to as small of a radius as it could go, since I knew we lived in the same apartment complex. It did not take too long before I stumbled across his profile and instantly swiped right! And just my luck – he did too!
We messaged back and forth and realized we were going to the same Super Bowl party at Gabby's apartment, also in the same complex. When it came time for the Super Bowl party, we did not speak…I know what you are thinking, if you know either of us this is surprising. I guess we both got nervous and very shy.
But, do not worry, the next night we somehow got him to come to a get together to watch the Bachelor. Then, we enjoyed our first date at Sushi One in Lafayette Village and the rest is history!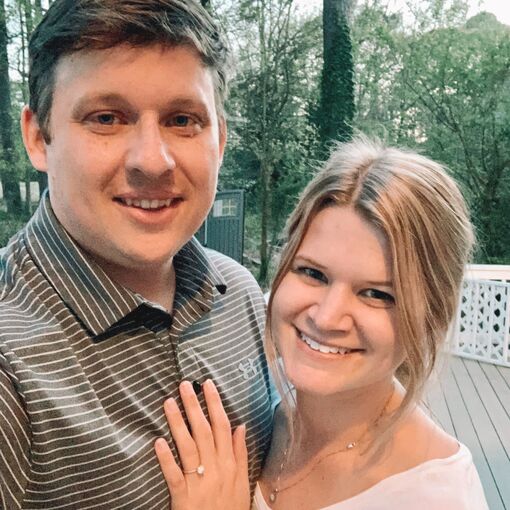 How He Asked
Monday, April 5th – so far, the best day of my life! I had let Taylor know that I had an appointment at 5:30pm in North Raleigh and so I would be home a bit later. He asked if there was any way I could move it forward because it was a beautiful day for a walk. Thankfully my client was very flexible and accommodating and easily moved the time forward. We both got home from work and had a typical dinner, just us and the dogs on the couch. I did not suspect a thing…
I asked him if he still wanted to go for a walk and he said how about we go chip and putt around on the 18th green, just behind our house. So, he grabbed our clubs, some extra balls and we hit the course, something we enjoy together quite often when it warms up!
We had not setup a specific tee time, so we were dodging the oncoming golf carts, but that didn't ruin our time. We enjoyed each other's company, spending time on the hammock & chipping in our own backyard.
Finally the coast was clear and we could go back toward the course! Taylor was up to chip and so we tried it a little further back from the green and he nailed the ball, clear over the green, still did not expect a thing because I had hit a few too far earlier in the evening.
I went to go grab the ball so I could chip it back up to where he was putting some of the other balls. After chipping it up, Taylor said "Why don't you go ahead and putt it in," still thinking nothing of it, I walked over to the ball I had just hit. When I went to look at the hole I saw a back rectangle, thinking that Taylor's phone or wallet had accidentally fallen out of his pocket I asked "what's in the hole" and asked him to remove it before I putted – I mean I didn't want to accidentally crack his screen if it was his phone. He kept telling me to just putt it in, I didn't understand….whoops!
He reached into the hole and picked out the box, which I still did not realize was holding a ring and he said "this is for you". This is when it hit me and I began crying. He got down on one knee and I proceeded to fall to my knees, it was truly happening, I was so overwhelmed with emotions…He brought me back up to my feet because I wasn't supposed to be down on my knees as well. He said some super sweet things that I had to ask him about later and he asked me if I liked the ring, but let's be honest through the tears I couldn't see a single thing.
Later I found out he said "The ball doesn't always roll our way, but you're my 18th green". What this means to us, life throws you many obstacles, road blocks, new jobs, life changes, house issues, but we will always be able to look forward to ending up with each other, whether that is the end of a crazy work day, rough house project, or just for the rest of our lives – it will always be us!
Engagement Photos by @CarlyHinsonPhoto